Situated on the banks of the Delaware River, Logan Township, New Jersey has a long history of caring for its watershed and natural environment. In the early 70s, the town designed what has been described as "the nation's first ecologically planned industrial complex," Pureland Industrial Complex. At the same time, the township set aside 1200 acres of environmental reserve, placing Logan Township squarely on a course of growth guided by a conservation ethic.
Challenge
The Reclamation Facility is situated in the center of the town's environmental reserve, surrounded by wetland buffers on all four sides Wastewater treatment at the facility is from both Logan Township and nearby Woolwich Township. In 2015, the LTMUA plant was operating well within its existing 2.0 MGD capacity, provided by two contact stabilization tanks rated at 0.5 MGD each and a two-tank OMNIFLO® sequencing batch reactor (SBR) system from Evoqua rated at 0.5 MGD per tank. At the same time, the town was anticipating a significant increase in flow from nearby industrial parks, where new food processing and warehouse facilities would bring high treatment requirements. It was time to plan for growth.


Solution
LTMUA worked with the New Jersey DEP and Remington & Vernick Engineers of Cherry Hill, NJ to plan a 0.5 MGD expansion of the SBR process that would meet growth needs while preserving the quality of the surrounding wetlands. RVE provided design engineering services as well as material shop drawing reviews.
A critical concern was the location of the proposed third SBR tank. With such tight buffer zones, space was at a premium. In addition, height was a concern due to potential interference with the flight paths of wetland birds, including bald eagles.

Past reports had identified one of the plant's polishing lagoons as a potential site for the proposed third SBR tank. After consideration of both environmental and operational aspects discussed at a meeting of project stakeholders, the NJDEP favored locating the proposed SBR in a different location near the two existing SBRs. This meant wedging a third SBR tank and its control systems into a narrow strip of land at the end of the facility property. It was the right thing to do. It was also going to be a tight fit.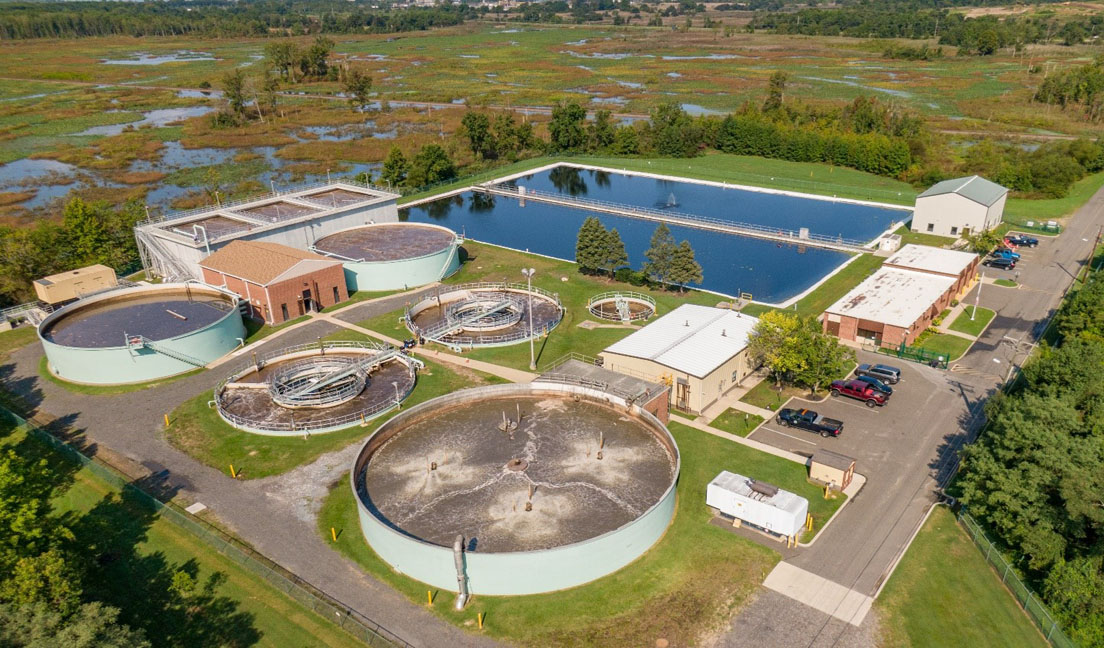 The plant's capacity is 2.5 MGD with an average daily flow of approximately 1.4 MGD, a 25 percent increase over the last five-year span, leaving plenty of room for the future.
High Effluent Quality In A Small Footprint
Key to meeting the challenge was the compact, high-efficiency design of the OMNIFLO SBR system from Evoqua. These systems have helped municipalities and industries overcome wastewater challenges for over 35 years with over 700 installations and counting. Evoqua's SBR systems successfully treat wastewater in plants ranging from 0.01 to 60 MGD.
As a batch process, the OMNIFLO SBR system accomplishes equalization, aeration, and clarification all in the relatively small footprint of a single reactor basin. With advanced control systems that automate key processes, SBR systems enable precise, flexible management of the treatment process to support efficient biological nutrient removal (BNR) of ammonia nitrogen, total nitrogen and phosphorus. Each OMNIFLO SBR system equalizes, aerates, settles and decants the flow in a timed sequence, all in a single batch operation. Operators can achieve simultaneous nitrification, denitrification and biological phosphorus removal by varying the conditions from aerobic to anaerobic to anoxic.
Remington & Vernick Engineers specified the LMTUA expansion tank to be rectangular in order to maximize land utilization at the site. Evoqua's product experts provided process knowledge and expertise to deliver an SBR solution that met LMTUA's space and performance requirements. The expansion tank was constructed with the same flow rating as the other two SBRs, but with increased water volume to treat higher strength wastes with elevated biochemical oxygen demand and chemical oxygen demand concentrations typical of those discharged from food industry facilities. In addition, to help meet sustainability goals, RVE specified high-efficiency motors and lighting throughout the project.
Results
Today, with the project complete, the plant's capacity is now 2.5 MGD. Average daily flow is approximately 1.4 MGD, a 25 percent increase over the last five-year span, leaving plenty of room for the future. Overall SBR treat ability has increased due to the higher pollutant strength loading capability of the expansion SBR. And the expansion is meeting strict potential effluent limits of 5 ppm BOD, 5 ppm suspended solids, 3 ppm nitrogen and 1 ppm phosphorus. With three operational SBRs, the ability to feed at least one SBR at any one time reduces the detention in the plant's equalization tank during wet weather events.
The project's combination of land utilization, wetlands protection, the maintenance and operation of the existing facility during construction and energy conservation won Remington & Vernick Engineers the 2021 National Grand Prize for Excellence in Environmental Engineering and Science Awards Competition – Design Category, presented by the American Academy of Environmental Engineers & Scientists.